Clockenflap 2023 Announces Full Schedule, Map & Attractions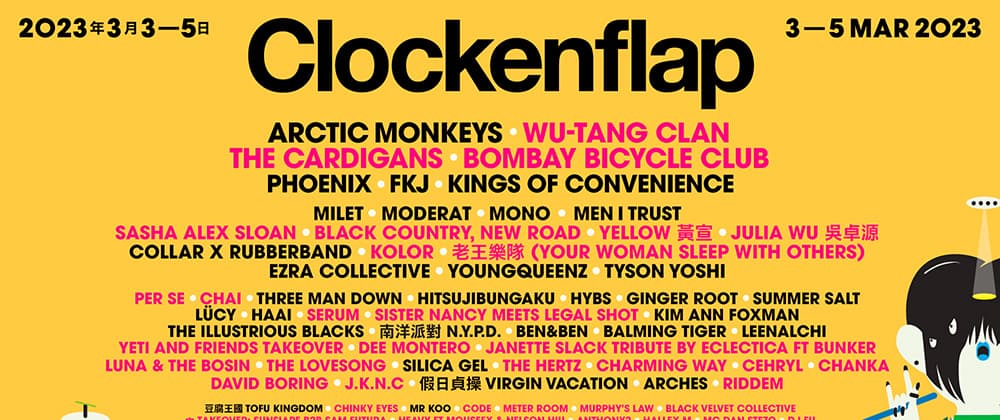 Published 9 months ago by Leslie Cheung
Hong Kong's biggest international outdoor music and arts festival, Clockenflap is finally set to return this week on March 3 - 5 taking place at Central Harbourfront. The festival was last held in 2018 and this year's tickets have been sold out. All retained and non-refunded tickets purchased for previous years have been updated for this year's event and will be valid for entry on arrival at the event. You will find your ticket(s) in the "My Tickets" page of your Ticketflap account when you log in. The old festival ticket(s) are not valid so be sure to log in to Ticketflap and download the newly issued ticket(s).
There will be six stages this year, Harbourflap Stage where Arctic Monkeys, Wu-Tang Clan, The Cardigans and Bombay Bicycle Club will be playing, FWD Stage, Park Stage, Electriq, Robot Stage and Topper Stage. The full line up are:
Arctic Monkeys (Friday)
Wu-tang Clan (Sunday)
The Cardigans (Saturday)
Bombay Bicycle Club (Sunday)
Phoenix (Friday)
FKJ (Saturday)
Kings Of Convenience (Saturday)
Milet (Sunday)
Moderat (Sunday)
MONO (Sunday)
Men I Trust (Friday)
Sasha Alex Sloan (Saturday)
Black Country, New Road (Sunday)
Yellow 黃宣 (Friday)
Julia Wu 吳卓源 (Sunday)
Collar X Rubberband (Saturday)
Kolor (Saturday)
老王樂隊 (Your Woman Sleep With Others) (Sunday)
Ezra Collective (Sunday)
Youngqueenz (Friday)
Tyson Yoshi (Saturday)
Per Se (Saturday)
Chai (Saturday)
Three Man Down (Sunday)
Hitsujibungaku (Saturday)
Hybs (Saturday)
Ginger Root (Saturday)
Summer Salt (Saturday)
Lücy (Saturday)
Haai (Friday)
Serum (Sunday)
Sister Nancy Meets Legal Shot (Sunday)
Kim Ann Foxman (Friday)
The Illustrious Blacks (Saturday)
南洋派對 N.Y.P.D. (Saturday)
Ben&ben (Sunday)
Balming Tiger (Sunday)
Leenalchi (Sunday)
Yeti And Friends Takeover (Sunday)
Dee Montero (Saturday)
Janette Slack Tribute (Saturday)
Luna & The Bosin (Friday)
The Lovesong (Sunday)
Silica Gel (Saturday)
The Hertz (Sunday)
Charming Way (Sunday)
Cehryl (Saturday)
Chanka (Friday)
David Boring (Friday)
J.K.N.C. (Sunday)
假日貞操 Virgin Vacation (Friday)
Arches (Sunday)
Riddem (Friday)
豆腐王國 Tofu Kingdom (Friday)
Chinky Eyes (Saturday)
Mr Koo (Saturday)
Code (Sunday)
Meter Room (Saturday)
Murphy's Law (Sunday)
Black Velvet Collective (Sunday)
宀 Takeover: Sunsiare B2b Sam Futura (Saturday)
Heavy Ft Mousefx & Nelson Hiu (Sunday)
Anthony2 (Friday)
Hallex M (Saturday)
Mc Dan Stezo (Sunday)
DJ Fu (Sunday)
DJ Lovely (Sunday)
Darka (Friday)
Jeremy Cheung B2b Jayme (Saturday)
Mengzy (Saturday)
Merry Lamb Lamb B2b Yum! Laksa (DJ Set) (Saturday)
Farrah (Friday)
Magnetic Soul Ft Kutoff (Sunday)
Magic Room Crew: Moshi, Leon, Milam, Lydia Nadia (Friday)
Shanda & Angelika (Friday)
Jfüng B2B Busyboi (Saturday)
Mmee (Sunday)
Enry B2B Justin Lim (Sunday)
Crimes Against Pop (Saturday)
DJ El Toro (Sunday)
Drafus (Saturday)
Fabsabs (Sunday)
Gokil System (Saturday)
DJ Rork (Sunday)
Arun R (Saturday)
Helen Ting (Sunday)
Sai Street Sesssions (Saturday)
Paul Bph (Sunday)
Johnny Hiller (Sunday)
Jimbrowski (Saturday)
Aymeric (Friday)
Robot (Sunday)
Le Groupe Electrogene Fanfare Club (Saturday & Sunday)
On-site experiences include arts installations by Pause.Rec.Play, Videotage, Relentless Melt, Memorabilia Mobile, Caratoes and Parents Parents and more; Family-fun area will feature puppet-based performances at Treasure Chest Theatre, percussions at Drum Jam, sonic explorations with I Is One. There will also be sponsored areas like FWD VIP Lounge & FWD MAX Zone, Cathay x Clockenflap Lifestyle Space, Hoegaarden The Beer Gaarden and foodpanda Food Bar. Handmade Hong Kong also returns to host Craft Market on festival ground.
Payment methods accepted on festival ground are:
Visa & Master Card
PayMe
Google Pay , Apple Pay and Samsung Pay
Octopus
Union Pay
Alipay and WeChat Pay
For a complete festival map, pleas click here.